Why Masaru 庖丁
Every knife we took in, we believe we are creating new opportunities & experiences. We believe in challenging the norm. Creating something which has both high performance and style, affordable for most. Introducing a new chef experience for everyone at home or at work. We do this with Masaru Knives.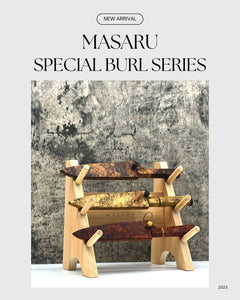 Masaru Limited Edition Local Burl Series. Now Available at Tsutaya Books Intermark
The blade is made from 45 layered Damascus AUS10 steel in Seki, Japan. Within this collection, you'll discover handles and sheaths painstakingly handcrafted from the exquisite burl found in our very own local rainforest. What makes this endeavor even more special is our partnership with a native indigenous group, who graciously assist us in sourcing these extraordinary materials.

Every piece in this series was carefully curated and expertly handcrafted to not only offer exceptional functionality but also to provide a fresh and enriching experience for all who appreciate the beauty of artisanal work. The story behind each creation is a testament to the harmonious relationship between nature, heritage and hands that bring these pieces to life.
Coming Soon.
Itsuo Doi, Sakai Takayuki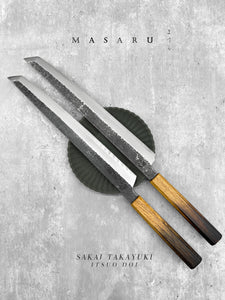 Masaru Knives, THEY ARE BACK !
Featured Collections - NANIWA CHOSERA