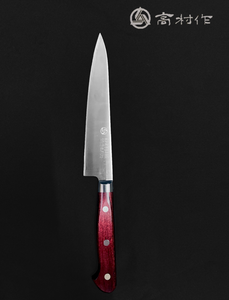 Masaruknives.malaysia
Takamura Migaki Petty 150mm
Regular price
RM599.00
RM0.00
Unit price
per
Takamura Hamono, from the city of Echizen in Fukui prefecture has a 700 years history in forged knives. The Takamura Migaki Petty was constructed from R2 powdered metallurgy steel, an advanced steel capable of taking acute and highly refined edges ideal for making clean cuts.
Blade : R2 (SG2) Powder Steel with Two Layers of Stainless Steel Cladding (Sanmai forged)
Handle :Red Pakka Wood with forged Stainless Steel Bolster
Bevel : 50/50
Length : 150mm
HRC : Approx 62
Weight : 73g
1.Do not attempt to cut frozen iten or bones as it may result chip or worst.
2. Remember to keep your knife dry after use. Do not store them close to a water source.
3. Always wash your knife after cutting something acidic as it will react to the blade and cause a burnt mark or worst. 🙂
---